There is nothing better to remind me of how quickly the year is already going than my third monthly Vegan Kind delivery of the year! The good thing about the year going so quickly is that it means Spring is nearly upon us, meaning I can (hopefully) wave goodbye to the Cornish rain and wind (at least for a while).
Lets have a look what is inside this month's box…
Faith in Nature's coconut scent is by far my favourite, so I was elated when I opened up my box to find this! These all natural, vegan friendly products are amazing, and are my go-to for both body and hair care.
Being surrounded by fudge in Cornwall, but not being able to indulge isn't always fun, so it was exciting to receive this vanilla fudge bar. The simple ingredients and packaging let the product speak for itself… And believe me it's delicious!
I'm always up for trying new chocolate bars (who wouldn't be?!) and this one does not disappoint. The hazelnuts give this bar a Vego-esque taste, but the light wafer makes is seem slightly less indulgent, so makes it great for a treat when you don't want to quite go all out.
Smoked bacon that is vegan? Well in wholegrain crisp form anyway. These are a great alternative to crisps and are packed with flavour.
While (not to boast) I make a mean vegan mac and cheese, it is always great to have a quick, easy alternative. This is being used for dinner to night, so I will have to report back as to how it tastes.
The people at the Vegan Kind do know how to treat us well, you can't go wrong with some tasty and cruelty free chocolate milk!
I wish I loved seaweed but I simply can't get past the fishy taste and weird texture! For lovers of the stuff though this would make a great snack, or would be great for sushi.
Back to something I love! Roasted chickpeas are one of my favourite snacks, especially when they are sprinkled with spices and herbs. These are super handy as they can be chucked in your bag and eaten on the go!
If you want to check out The Vegan Kind and try a subscription box, click the picture below and it will take you to their website!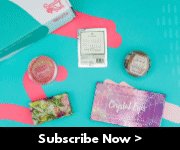 Please follow and like us: