I'm a bit late to the game on this one since it is already March, but I've had a super hectic month with lots of university deadlines! Now that I am (slightly) on top of my work, I thought it was about time to share February's The Vegan Kind box.
For those of you who are new to the idea of The Vegan Kind, they are a rapidly growing vegan lifestyle subscription box, sending goodies to your door every month.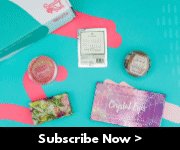 Each month, TVK selected a charity to donate money to, and 10p from every box  this month went to the Scottish Animal Behaviour and Rescue Centre. These all vegan volunteers  help to rehabilitate animals, especially those who have been poorly treated within the food industry.
Not only are they generous to charities, but they also treat us subscribers pretty well, as the products this month were exceptional!
Included in the box was:
Candy Kittens / Hello Kitty Sour Apple Sweets 
This is the second box to contain candy kittens sweets, and I am not complaining! These are equally as delicious as the previous pineapple flavour, and it is great to see a company branching out and providing more vegan options.
Simpy7 Bruschetta Lentil Crisps
I am a notorious crisp addict, so having a healthier alternative is always great. These were gone in one evening as they are so moreish, and you don't have to feel quite as guilty as if you had polished off a whole bag of potato chips!
Human+Kind Watermelon Hand, Foot and Elbow cream 
Human kind is quickly becoming one of my favourite skin care brands as they products smell great, are made out of natural ingredients and also look amazing as the packaging is beautiful. This is a great hand cream that moisturises but doesn't leave your hands feeling too oily after.
Ombar Centres Raspberry and Coconut 
Oh Ombar, how are you so tasty? I am a fan of Ombar chocolate in general, as it is raw and therefore keeps as much of the ingredients goodness as possible, but the Centres bring it to a whole new level. If you're a vegan chocoholic, be sure to give these a go.
Quinola Mothergrain Express Quinoa and Indian Style Chickpeas
Perfect for a quick yet healthy lunch, this flavourful pack boasts great macronutirents, as not only is is high in fibre and is a source of complete vegetable protein, it is full of slow releasing carbs.
Virtue Peach and Strawberry Ice Tea
Iced tea will always remind me of days spent in sunnier climates on holiday, but thanks to TVK, I can enjoy it at home without the copious amounts of added sugar! Virtue ice tea is low calorie and has no artificial ingredients or any refined sugar making it a great alternative to traditional ice tea.
Please follow and like us: